Floor releveling & structural stabilisation without business interruption
Problems we solve include:
Uneven floors

Concern over future settlement

Inadequate bearing capacity

Voiding under floors

Differential settlement

Cracked Walls / Structures
Can Geobear help me?
Yes. Our solutions are appropriate for any type of structure and are more economical than traditional methods. Typical sites or issues which we can resolve include:
I am a Chartered Building surveyor specialising in building defects and I have used Geobear several times over the years to help resolve sunken floors and ground instability. I have always found them to be very professional and I would not hesitate to use them again or to recommend them to others.
Alan Holmes DipSurv, MRICS, MCIAT, MCIOB.
The fast process to re-level sinking floors
OUR EXPERTS DRILL HOLES ACCORDING TO DESIGN
WE INSERT STEEL TUBES INTO THE SLAB OR GROUND
GEOPOLYMER RESIN IS INJECTED INTO EACH HOLE
THE SITE IS MONITORED WITH LASERS TO VERIFY RESULTS
The holes are 12mm and drilled according to the engineered design
12mm tubes are either placed through the slab or into the ground to deliver geopolymer
The geopolymer expands when injected to fill voids and hardens with strength comarable to concrete.
Floor slabs can be lifted with ease and monitored with lasers to verify accuracy.
For almost 40 years we've been helping businesses and services to continue operating whilst repairing sinking floors and remediating structural movement.
Contact us today and we will visit your site to assess the issue and our engineering team will design a solution to repair the affected area.
10x faster
than piling or other methods
200,000
completed projects worldwide
BBA
regulated approved materials
No business losses to you
We can assess and deliver a solution for you within days if required, minimising any downtime to your business.
Minimal Disruption
Our solution requires no excavation or heavy equipment. This means your business can focus on operating and we can work around you.
Safe Hands
Geobear used to be known as Uretek. We are the original inventors of geopolymer solutions and have 40 years of experience delivering schemes.
Engineered design
Your solution is designed by our in-house team of chartered engineering professionals for the most effective solutions based on your needs.
Industry approved materials
Our geopolymer material is approved by the British Board of Agrement. We have worked tirelessly to ensure our materials are certified for use on your site.
Cost effective
Our solution will yield a 5 to 10x faster delivery rate than alternative solutions like piling, meaning the total costs and any losses can be reduced.
Speak to our experienced advisors to find out how we could help you and to arrange a free site visit.
Geobear solutions versus traditional method
This short video illustrates the key differences between a geopolymer solution and traditional piling for a warehouse or factory slab. Whereas the entire floor space needs to be cleared for a piling solution, Geobear can work around the operation on individual isles or bays.
Floor Slab Enfield
We were contracted to lift and relevel a floor slab in a warehouse before it could be leased.
Job completed in a week, saved months in lost lease time
St Helier Hospital access road
The hospital access road had sinking slabs and needed to be repaired whilst remaining open.
I would certainly recommend Geobear due to their expertise and professionalism
Stabilising Kentish Town City Farm
An inner city farm needed a solution to lift floors without having to close.
Doors that didn't close, close again
We operate anywhere in England, Scotland, Wales & Ireland
We have numerous depots with mobile teams ready to deliver projects where necessary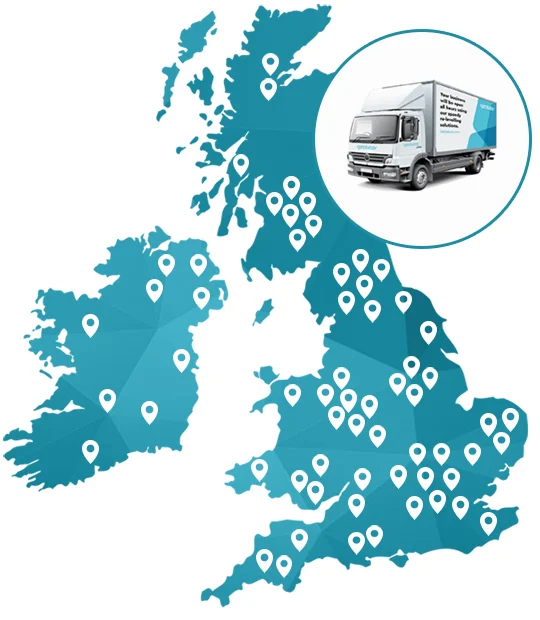 Difficult to access site? We just need to park our truck outside and use 100m hoses to deliver the resin. We can work on even the hardest to access sites.
The work itself took less than a day to complete and apart from clearing the room there was hardly any disruption at all. The team were polite and professional. We feel confident the work has been done to a high standard and solved the problem.We fully recommend Geobear.

Andy Dawson
Speak to our experts and find out how we could help you. A regional manager will visit your site.
Faster & more cost-effective than traditional solutions
Geopolymer injection
3-10
Days
Geopolymer injection
1. Drill tiny holes into ground around site
2. Inject Geopolymer resin
3. Fill holes and clean up
Piling
1. Remove all site machinery/racking
2. Excavate slab
3. Install piles
4. Pour Slab
5. Replace racks/machines
Geopolymer injection
✓ No need to move out
✓ Truck can be parked on road up to 100m away
Traditional piling
 × Need to relocate during the works
 × Access needed for construction equipment
 × Major excavation
Geopolymer injection
££
Varies by site size - quote
Traditional Piling
+£££
Varies by site and supplier
Geopolymer injection
£ Crack repairs and seals
Traditional Piling
£ Removal of site racking / equipments
£ Loss of revenue due to down time
£ Relocation costs during works
Frequently Asked Questions
What happens to any cracks in the walls?
If we are stabilising a structure, cracks may close up as the building is raised, allowing simple final repairs to follow. Windows and doors will often unstick and work properly again.
Will there be disruption to operations?
Very little, if any. Our geopolymer resin is injected through tiny holes drilled in the ground. It's a bit like "keyhole surgery" so there is minimal excavation, disruption and mess. Nearly all our work is done outside the property and you don't need to move out.
We've treated over 200,000 structures worldwide
Each project is different and the time depends on the amount of lift needed, the area which needs treatment and the ground conditions. Most projects are fully completed within 1-2 days or weeks depending on site and scale.
Do I get a warranty?
The work comes with a 10 year insurance-backed warranty.
Do I need to relocate?
No. Most projects won't require you to stop operating.
Is it safe and environmentally friendly?
Yes. Our resin is environmentally inert and has no detrimental effects on the environment.
How many projects have you completed?
Geobear (formerly Uretek) have completed over 200,000 projects worldwide over the last 40 years. We've completed over 11,000 residential projects in the UK as well as major engineering projects for the NHS, Network Rail and the Highways Agency
Who will carry out and be resonsible for the work?
The work at your property will be designed by an engineer and carried out by our highly experienced technicians.